A loyalty marketing program, also known as a VIP club, is a crucial component of any marketing package. It can help create, retain, and grow your customer base, leading to increased sales and revenue.
By offering incentives, such as exclusive discounts or rewards, you can motivate your customers to purchase more frequently and become more loyal to your brand. This, in turn, can lead to increased turnover and long-term profitability. A well-designed loyalty program can also help to increase brand awareness and create a positive image of your products or services. By showing your customers that you value their business, you can build a lasting relationship and encourage repeat purchases.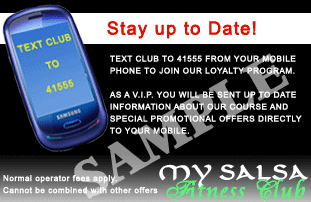 Loyalty Program Overview:
Create a keyword for your short code, in this case the keyword is 'VIP'. e.g. 'Text VIP to 51444' or even better 'Freetext VIP to 50015'. The difference is with the first one the texter will be charged normal operator costs for sending a text, the second short code, 50015, there is no charge to the texter.

Give them a reason to sign up, e.g. "Text VIP to 5144 to join our VIP club and get free entry on Friday night".

Decide what the autoresponse will be. Their mobile phone can be checked at the door for the autoresponse to gain free entry.

Create posters and flyers to place throughout your night club that advertises your VIP club and how to join. Advertise it in the local papers or talk to the other local businesses put a flyer in their window.

Now the fun begins, you will have a database of clients that have joined your VIP club. You know these clients enjoy going to nite clubs in your area.

Use our texting platform to send this text to your VIP members, "Reply Twofors to receive two shots for the price of one this Friday night." You will increase your revenue and hopefully create viral marketing as your VIP members tell their friends to join your VIP club.

You can then text your VIP members to tell their friends to Text NiteClub to 51444 and you will both get free entry this Friday before 10pm.
Get in Touch
Call us to find out more about our 'Loyalty Club' 01 443 4262 or Contact Us